Formula Vee Racing provides the thrill of fiercely competitive motor racing at a budget cost. Permitted modifications are minimal so that greater emphasis is on driver skill rather than budget.
As a result, the class is the first proving ground in motor racing and has always been a stepping stone to higher levels of motorsport. Larry Perkins, Jason Bargwanna, Colin Bond and John Bowe began their careers in Formula Vee.
You've been watching racing on TV for as long as you can remember, reading about Formula 1, V8s, Karts, apexes, understeer, oversteer, brake balance etc. Current Australian motorsport young guns, Cameron Waters, Jack LeBrocq, Caleb Rayner and Sam Power starting their circuit career in Formula Vee. Racing greats like Cameron McConville, Larry Perkins, Jason Bargwanna, Colin Bond, John Blanchard and John Bowe also began their careers in Formula Vee. On the international stage, Niki Lauda, Emerson Fittipaldi and Keke Rosberg, all Formula 1 champions, raced Formula Vees in Europe or America at the beginning of their careers.
Maybe you've been driving karts since you were 6 years old and now you're 13 it's time to think of making the big move into real racing cars like Formula Vee. 14 year olds can race, especially if they have Kart experience. Or maybe it has been something you always wanted to do but never had the time or money.
Well regardless, the time has come to take the plunge, to fulfill your dreams – to become a RACECAR DRIVER.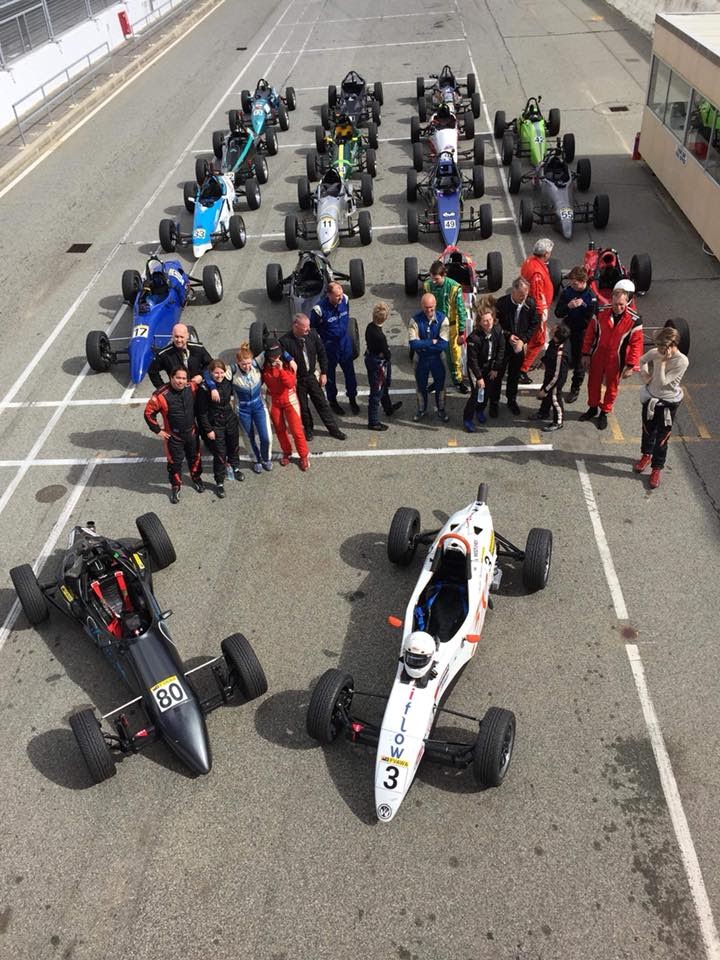 These figures have been averaged by 2 new members becoming race car drivers in 2011 (1200s). One paid more, one paid less. It is possible to start for even less; however, it may take longer to get to the front. Some cars win straight away, some take time.
Tyres may last a whole season or only half a season with significant practice. Track days are free for competitors on the Friday preceding an event and some are half price($30) on the Saturday before. $2100 will get you a brand new, good quality Race Suit, Boots, Gloves, Underwear and Helmet. An extra $800 will buy a HANS (Head and Neck Support) device which is not compulsory and only used by a few drivers.
Racing 1600s should cost considerably more to purchase and to run. The field is currently split quite evenly between both classes and you will always be racing hard against someone whether you are near the front or the back. Given the purchase of a decent car you will have every chance of being a front runner in the 1200s during your first season (depending on your natural ability-which will obviously be awesome). This will be harder in the 1600s.
You can sign up and start racing at any time during the season, or sign up in the off season and get some practice in before it starts. Racing generally starts around March each year and continues through to October or November. Practice or Tuning Days happen all year round and are advertised on the WA Sporting Car Club web site (www.wascc.com.au). Each year you can compete in up to 8 race rounds, mostly at Barbagallo but also at Collie.
In 2020, there are three championships to win at both 1200 and 1600 cc levels. The state championship of 8 race meetings at Barbagallo and Collie, the wASCC championship of 6 rounds at Barbagallo and the FVAWA Club championship which is taken from every second round including Collie. We will also we going to the National Series rounds and National challenge for those drivers wanting some extra ultra competitive racing – see the 2020 Coming Events sidebar.
How to start racing video